Hooray, a new kitten!
Congratulations on your new kitten
On this page we have listed the most important information for this amazing phase of your cat's life. Should you have any questions after reading, you are of course welcome to ask us at the clinic itself, on the phone or via email or whatsapp.
Cat Friendly Clinic
A visit to the vet is very exciting for many cats. De Dierenkliniek makes every effort to make the vet visit as relaxing as possible for your cat. We follow the Cat Friendly Clinic protocols of the IFSM at the highest level, and our clinics are fully equipped according to these guidelines. We are very proud of the fact that Dierenkliniek Vondelpark has Cat Friendly Clinic Gold status, and Dierenkliniek Spaarne Cat Friendly Clinic Silver status.
The upper floor of Dierenkliniek Vondelpark is entirely dedicated to cats. There you will find a – from dogs separated – waiting room, consultation room and hospitalization possibility. We keep the upper floor as quiet as possible, without 'dirty' dog odors, lots of Feliway and sometimes even a soothing cat music. All of our waiting rooms are equipped with special 'cat parking spaces' and our team is extra trained to minimize stress to your cat during treatment and/or hospitalization.
Vaccinating kittens
Newborn kittens are protected from disease by antibodies received from their mother through the womb and breast milk. These antibodies are consumed in the first few weeks of the kitten's life. The loss of this protection is compensated for by vaccinating the animal at the right time so that the kitten's immune system builds up protection on its own.
Our advice is to vaccinate your kitten for the first time at 12 weeks of age. Previously the advice was to do this at 8-9 weeks of age, but research shows that at that age the kittens still have enough antibodies that they have received through the mother. We recommend vaccination at 8-9 weeks of age only if you have more than 4 cats in your household or the kitten's history is unknown.
8-9 weeks
Sneezing disease + Cats disease
(only needed with "multi-cat households" (>4 cats/households) or unknown history of the kitten)
12 weeks
Sneezing disease + Cats disease
16 weeks
Sneezing disease + Cats disease
Vaccination schedule kitten
Vaccinations safely introduce your kitten to various pathogens. The immune system then develops specific antibodies and immune cells that protect the animal against these diseases. Kittens in the Netherlands are standardly vaccinated against Sneezing Disease (Calici- and Herpesvirus) and Cat Disease (Feline Panleukopenia virus) and optionally against another pathogen of Sneezing Disease (Bordetella bronchiseptica). Thereafter, an yearly annual vaccination is sufficient to permanently protect your cat.
If you plan to travel abroad, an additional vaccination against Rabies needs to be given. For most countries this must be given at least 21 days before departure (for the specific requirements per country you can look at the website of LICG). Rabies vaccination may be given to kittens as young as 3 months old.
Microchipping your kitten
Every year many cats get lost after escaping. In order to return them quickly to their owner, it is important that these animals are chipped and registered.A microchip for cats is a small tube about the size of a grain of rice. The microchip is placed under the cat's skin using a hollow needle. Each microchip contains a unique registration number which is linked to an owner and registered in a national database. The chip number can be read through a special chip reader. We have such a reader at our clinics. When a cat is found, the first thing that is always read is the microchip. The microchip is linked to the owner's data, allowing the cat to be returned home quickly.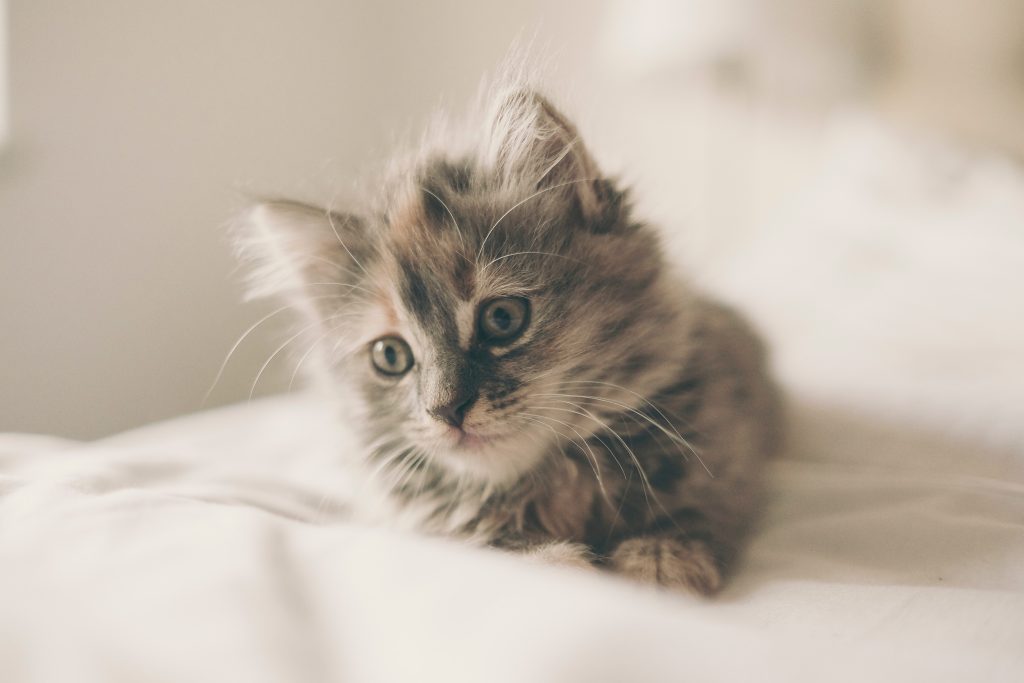 In the Netherlands it is not required to have your cat microchipped. However, we advise you to have it done because we find that every year we can return many cats to their owners this way. Often we microchip the animals during the anesthesia for neutering or spaying, so the cat does not notice the microchipping. If you would like it done earlier you can also just do it at the consultation.
Deworming kittens
The most common worm in kittens is called Toxacara cati. This worm can cause problems such as losing weight, vomiting, diarrhea and respiratory problems in young animals. All kittens become infected with these worms through their mother's milk. Even after they are away from their mother, many kittens still pick up worms through licking their fur. These worms are contagious to humans and especially to children. So it is important to deworm your cat properly!
Deworming schedule
Kittens should be dewormed at the following ages:
3, 5 and 7 weeks old
Then every month until they are six months old
After that, every three months for life in outdoor cats and every six months in indoor-only cats; deworming is particularly important in "hunters"
For proper deworming, we recommend Milbemax ® or Milpro ® tablets. From the age of 6 months it is also possible to check on the basis of fecal examination whether it is necessary to deworm. We can test this for you at the clinic and often have the results the same day.

More information about worms and the health risks for humans and animals.
Fleas
Fleas can cause you and your pet a lot of inconvenience. They cause severe itching and can even cause allergic reactions, even in humans! To prevent fleas, our advice is to treat monthly with an effective flea product. There are several options for this such as pipettes, tablets, injections or a band. For tailored advice you can always visit one of our clinics.
Don't wait to treat until your kitten actually has fleas! Adult fleas can lay as many as 100 eggs per day that develop into new fleas in 3 months. Because of this, it often takes a long time to get rid of fleas. Therefore, prevention is better than cure.
Nutrition
It is important to feed your kitten a special "kitten food" until he/she is about 6 months old. Kitten food contains more protein than adult cat food, which is important for organ growth and development. For example, a high-quality kitten food is Hill's Vet Essentials Kitten. This food is scientifically proven to contain the right amounts of minerals, vitamins, omega fatty acids and antioxidants for proper development of the immune system, bones and joints, skin, nerves/brain and for proper digestion.
Cats are naturally poor drinkers. This is due to their lifestyle and prey (small animals). A cat that drinks (too) little is much more susceptible to developing bladder problems such as grit. We therefore recommend giving your cat daily canned food in addition to kibble. This way the cat gets extra fluids.
Tips:
Do not put the food bowl and the drinking bowl next to each other, but rather far apart. You will see that your kitten will then drink more.
Also put the food/drink far away from the litter box. Cats are very hygienic and, like us for that matter, find it annoying to eat in the same room as their toilet.
Healthy weight kitten
At birth, a kitten weighs about 100-120 grams. In the first week the kitten should gain twice as much weight because of all the milk she drinks from the mother. In the following weeks the kitten should gain about 100 grams each time. When the kitten is 8 weeks old, she should be 8 times as heavy as when she was born. Below is a chart showing the kitten's weight per age. Please note that this is an indication. With larger breeds such as the Maine Coon, this may vary.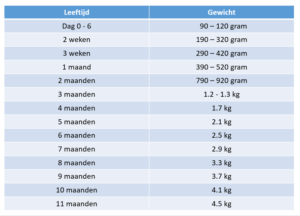 It is important to keep a close eye on a kitten's weight. A kitten absolutely must not lose weight, but a kitten that becomes overweight at a young age is not good either. Kittens that are overweight are more likely to be overweight when they reach adulthood. In doubt about your kitten's weight? You are always welcome to have your kitten weighed! Did you know that we have developed a special nutrition plan for kittens to monitor your kitten's growth?
This feeding plan is included in our preventive care plan, the Happy Pet Health Plan for your kitten.
Changing teeth
Your kitten's baby teeth consist of 26 teeth (12 incisors, 4 canines and 10 molars). From the age of 3-4 months, the baby teeth slowly start to change to the adult teeth which consists of 30 teeth. As the adult teeth grow, the roots of the baby teeth are resorbed and the baby teeth eventually fall out. This can cause small wounds in the mouth and therefore temporarily an unpleasant odor from the mouth.
It is very important that you get your kitten used to you looking in his/her mouth from time to time. This way you will be able to notice dental problems early and treat them if necessary. After all, cats are masters at hiding pain or other symptoms, and we know that 75% of cats over 3 years old have dental problems!
The very best thing would be to brush your cat's teeth daily! Be sure to use special cat toothpaste and NOT a human product.
If you are interested in this, feel free to ask one of the assistants or veterinarians for an explanation of how best to do this. There are also videos with explanations.
A happy life for your cat
If you cat can go outside in the future, that is of course very nice. It is very important to build this up gradually. First, make sure your kitten stays inside for at least 3 weeks so that he can get used to his home properly. Then you can take him outside for a few minutes under supervision. This can then be built up slowly. With females, it is wise to have them spayed before going outside unsupervised to avoid unwanted pregnancy.
Many cats in the city stay indoors. Again, that doesn't have to be a problem at all but we would recommend taking some time to think about the layout of your home and the amount of distraction and play a cat needs to be happy. Interesting articles on this subject are:
Playing with your kitten
At the age of 9-14 weeks, kittens need a lot of social play. For building a bond with your kitten, it is good to play with him/her. After this age, kittens prefer to play with toys. It is important to teach your kitten early on not to bite or scratch people, even while playing. It is best to play with toys. If the kitten bites or scratches you, it is best to stop play immediately by walking away or ignoring the kitten.
Spaying
Kittens come into heat from 5-8 months of age. If you do not want to breed with your female cat, our advice is to have her spayed between 4-6 months of age. Spaying is a one-day procedure. We put your kitten under anesthesia, remove only the ovaries at this young age through an incision of about 3 centimeters in the abdominal wall. We place all sutures subcutaneously and she goes home the same day fully awake and without a collar. Studies have shown that cats at this age recover faster after surgery and are less bothered by the procedure. There are several benefits of spaying cats:
It reduces the risk of developing mammary gland tumors later in life
No uterus infection
No unwanted pregnancy
No heat
Neutering
Males can be neutered starting at 4 months of age. Neutering is also a day surgery. We put your pet under a safe anesthesia, remove both testicles in through 2 incisions in the scrotum. No stitches are placed and he goes home the same day fully awake without a collar.
There are several reasons to neuter a male cat.
Unneutered males have a strong tendency to mark places in the house with urine (spraying).
Less strong smelling urine.
Unneutered males fight significantly more and are at increased risk of contracting diseases in the process.
After spaying/neutering, your cat's metabolism changes. As a result, he/she may gain weight faster. This can be prevented by preemptively putting your cat on a low-calorie diet or giving ¼ less food.
Grooming
Cats need grooming. Build this up slowly with your kitten so he/she can get used to it. The diagram below shows which coat care is needed for which type of coat.
| | | |
| --- | --- | --- |
| | Combing/washing at home? | To the groomer? |
| Shorthaired cats (European shorthair, British shorthair, Siamese) | Yes, weekly combing | Only as needed at older ages |
| Semi-long-haired cats (Norwegian Forest Cat, Maine Coon, Ragdoll) | Yes, weekly combing | Yes, 3-4 times a year |
| Long-haired cats (Persian) | Yes, combing 1-2 times a week | Only if tangles develop |
| Waved coats (La Perm, Selkirk Rex) | Yes, combing once every 2 weeks | Yes, washing 1-2 times a year |
| Naked/hairless cats (Sphynx) | Yes, 1-2 times weekly washing | No, unless there is no washing at home |
If you have any further questions we would be happy to hear from you. We hope you enjoy!