How to Trim a Cat's Nails
Why do I need to trim my cat's claws?
It is important to occasionally check your cat's nails and trim them if necessary. This is because in some cases they can become too long and this can cause discomfort. For example, nails that are too long can cause the cat's toes to be pushed up, putting too much pressure on the foot and causing an incorrect posture. Also, the toes may become crooked, nails may grow in, break or tear. Especially in older cats, it is important to check the nails regularly, as they are less able to keep them up by themselves.
If your cat gets outside a lot or uses a scratching post, the nails often wear down on their own and there is no need to cut them.
How to trim your cat's nails?
Clipping your cat's nails is also something you can do yourself as an owner. A good tip is to already get your cat used to touching and grabbing its paws as a kitten. This will make nail clipping a lot easier later on.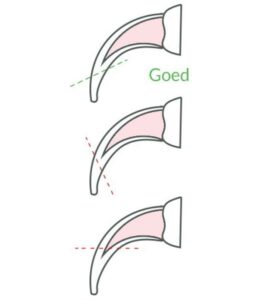 First, make sure you have good nail clippers specifically for cats.
Make sure your cat has a nice position and reassure them. It is important that they sit still for a while after all.
With one hand, grasp the lower foot and hold the toe from which the nail is to be cut. Apply some pressure on the sole pad so that the nail emerges.
You want to avoid cutting into the life of the nail, as this is very painful. With white nails, it is easy to see where the life runs. Cut the nail 2 mm from the life at an angle.
With black nails, it is difficult to see where life begins and with so extra care must be taken. One way is to keep cutting off a very small piece, until you have a dot in the middle of the nail. That way you know you are getting close to life and so should stop further cutting.
Still exciting to cut your cat's nails yourself? You are welcome to come by the clinic for this. Make an appointment online here!
What to do if you overcut your cat's nails?
If you did accidentally cut the nail in life, the cat's nail may bleed. This bleeding can also be difficult to stem. Therefore, it often looks scarier than it is. It is not dangerous, though it can be painful for the cat. You can try to stop the bleeding by putting pressure on it with a piece of gauze, the bleeding often stops by itself. You can also use styptic powder to stop the bleeding. This is available at most drugstores. If the nail continues to bleed, contact a veterinarian for advice.