How to brush your cat's teeth
Most dental problems in cats are caused by plaque and tartar. Brushing your cat's teeth daily is the very best way to prevent this. But we also know that this can be quite a challenge in cats. Here we explain how best to go about it. Here we explain how to do it best.
Instructions
How good that you are going to try brushing your cat's teeth! Some cats, after some practice and patience, allow this just fine. We provide tips here on how best to do this.
Preparing
To brush teeth, your cat first needs to get used to certain touches, such as raising its lips to reach the teeth and touching them. Start practising this step by step first. Always reward your cat so that he or she starts to see it as something nice. Try to start this at as early an age as possible. Try each step for at least a week before moving on to the next.
Is your cat used to it? Brush away!
Step 1
Let the cat get used to the toothpaste first. For this, use special toothpaste for cats, these are safe to use and have a tasty flavour such as chicken or poultry. Put a little toothpaste on your finger for your cat to lick it off. Most cats see this as a treat.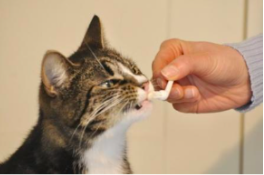 Step 2
Spread the toothpaste on the cat toothbrush and let your cat lick it off from this, so your cat gets used to the feel of the toothbrush.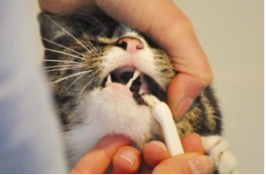 Step 3
Once your cat is used to the toothbrush, you can lift the lip and brush the sides of the teeth.
If you have any further questions, please feel free to contact us. Good luck with the brushing!