When is it too cold for my cat?
How well can cats actually withstand the cold? Can they just go outside when it's freezing or snowing? We often hear this question at our clinics. Because when is it actually too cold for a cat? And what can you do to make them comfortable and safe through the winter? Read more about it here.
Can cats stand the cold?
In general, cats like warmth. They like to seek out a warm and cozy place. However, this does not mean that they cannot stand the cold. The question of exactly when it is too cold is difficult to answer. The American Veterinary Medical Association recommends keeping the temperature for cats no lower than 10 degrees and no higher than 26.5 degrees. But how well a cat can stand the cold also depends on several factors, such as:
Body weight
Age
Type of fur
Type of breed
Health
A large and heavier cat can generally withstand cold better since he or she has more mass and thus cools more slowly. Older cats and kittens have less mass and often a thinner coat, making them less able to withstand the cold. Cats with certain health conditions, such as hyperthyroidism or heart disease, are also at increased risk of hypothermia.
How do you recognize if a cat is cold?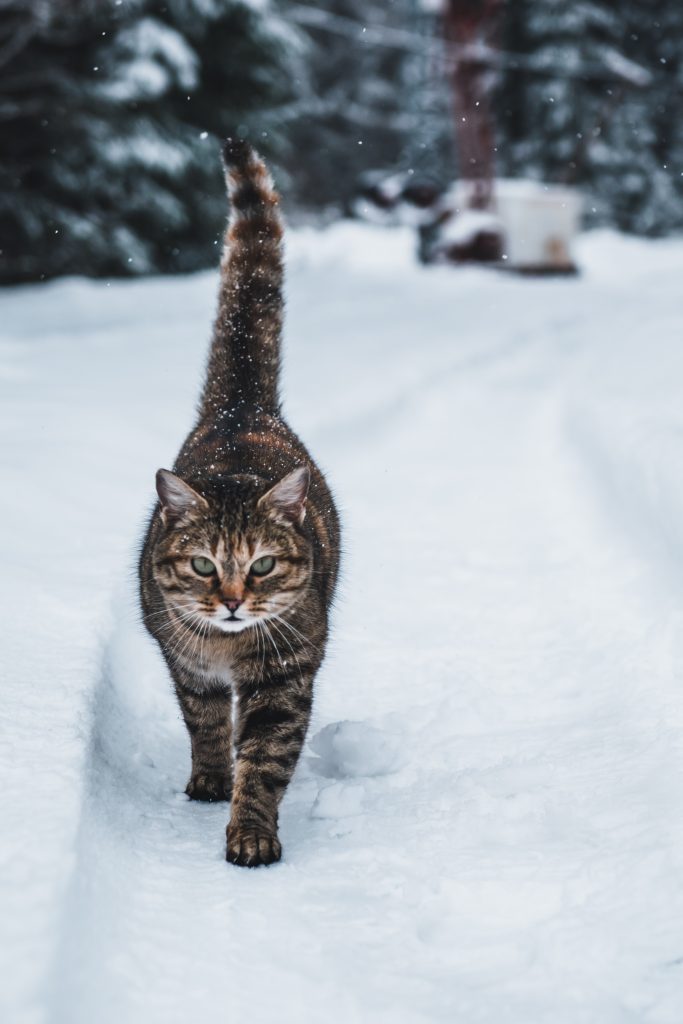 When a cat is cold, he or she often sits in a curled up or hunched position and tries to find a warm or sheltered spot. They may start to shiver and often the animal's feet and ears feel cold.
Hypothermia of the cat
A cat can become hypothermic if he or she is exposed to cold temperatures for too long. Hypothermia is defined as a body temperature of 35°C or lower. The risk of hypothermia is increased if the fur is wet.
Symptoms of hypothermia are:
Confused behavior
Enlarged pupils
Difficulty in breathing
Muscle stiffness
Low blood pressure
Slow heart rate
Coma (in the most severe cases)
If hypothermia is present, we recommend calling a veterinarian immediately.
Can a cat go outside during winter?
In general, cats can handle cold well. Therefore, you can often take your pet outside during the winter. When it gets cold outside, cats get a thicker coat, which provides good protection from the cold.
We advise you not to let your cat go outside in the winter if:
Your cat has medical conditions, such as an overactive thyroid or heart problems
Your cat is a kitten or a senior cat
Your cat has a very thin coat, no coat (sphynx cat) or has just been shaved
You have an indoor cat that has not been outside before
You are unable to let your cat inside
Severe weather conditions are expected, such as snowfall
Tips for your cat during the winter
Do you have a cat that, despite the cold weather, wants to go outside? Then we have some tips for you here.
Make sure your cat can always get inside
If a cat cannot go inside, they will sometimes seek warm and sheltered places outside, such as (other people's) sheds or garages; sometimes they are accidentally trapped like this
A common place sought after by cats is a warm engine block or on top of car tires; therefore, always knock on the car hood before driving off in the car
Clean your cat's paws when coming in, when salt has been sprinkled; this will prevent your cat from licking up (too much) salt and will prevent paw irritation
If your cat is indoors more in the winter, chances are it will also be less active and have less nutrition left as a result. Does your cat go outside just as much in the winter? Then he will actually burn more calories due to the cold. So take your cat's diet into account.