How to Calm Your Cat During Fireworks
Christmas and New Year's Eve: for us, this is a time of fun and excitement, a time with lots of visits, noise, music and presents, Christmas trees and delicious smells. For many cats, however, this is a period they prefer to skip. Fear of fireworks is no fun!
Find out how to ensure that your cat can get through these days with as little stress as possible.
Get your cat used to the sound
The best thing you can do is train your cat to not be afraid or less afraid of fireworks. It may seem excessive to go through an entire training programme for fireworks anxiety, after all, the problem is only temporary. But by making your cat find the sound normal, you can prevent fear. In fact, there is also a risk that fireworks anxiety – or fear of noises in general – gets worse as cats get older. Therefore, start at as young an age as possible. Getting used to it can be done using a fireworks CD or sound clips you can find online. This method does take some time.
To start with, turn on the sound clip so softly that your cat does not react to it and play or cuddle with your cat. Then turn up the sound ever so slightly, but never so loud that it startles your cat. If your cat shows fear during training, this is a sign that you have made the training too difficult. Then go back a few levels and build up the training again, this time with smaller steps. You can give him or her a treat after the game. Repeat this training daily until New Year's Eve.
YouTube videos with fireworks sounds can also be used.
Pheromones
Feliway is a natural pheromone-based product, which cats produce when they are happy. Feliway products secrete these pheromones, which will have a calming effect on your cat. This can help make your pet calmer. Start about two weeks before New Year's Eve to allow the product to take effect.
The all-natural product Zylkene
Zylkene is a dietary supplement that contains alpha-casozepine. This is a sedative that has a similar calming effect to valium but is not sleep-inducing. It can be given when stress is expected, then preferably 1-2 days in advance (when moving house, on a long trip or staying in a boarding house). If your pet is experiencing long-term stress, you can expect effects after about 1-2 weeks (e.g. in case of fireworks anxiety). For animals that already get stressed when hearing the first bang, it is advisable to start giving Zylkene 1 month to 2 weeks before New Year's Eve, so that when the first fireworks are set off (sometimes a few weeks beforehand), the medication is already working.
Medication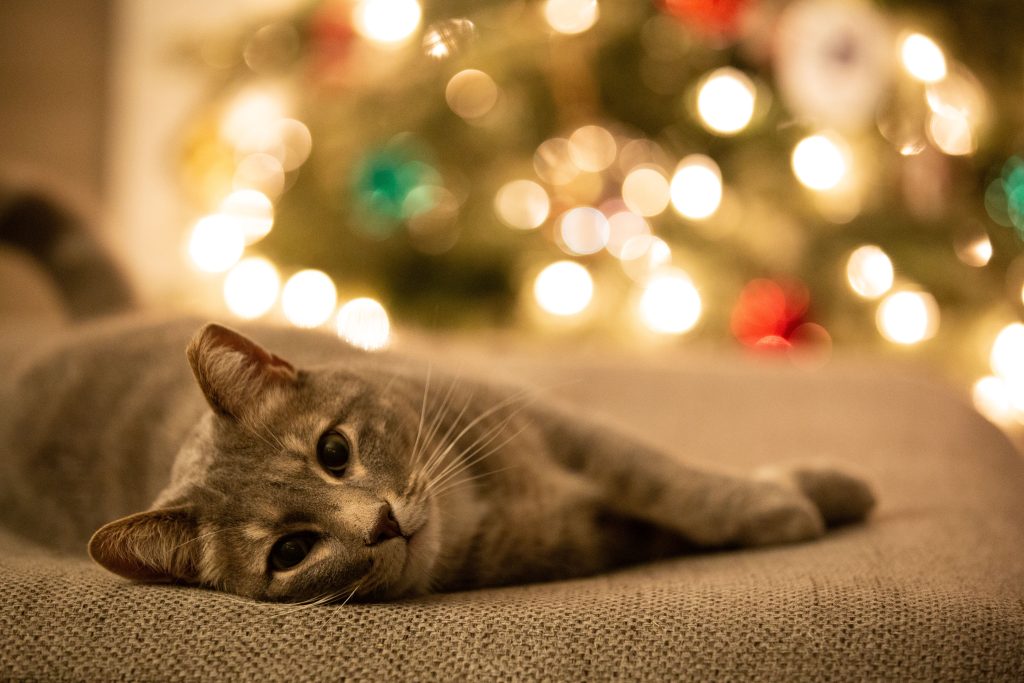 An earlier commonly used drug was acepromazine (Vetranquil). This drug actually makes your pet more sensitive to sound. While the animal may appear calm, it is too much under the influence to run or twitch, but the anxiety is not gone and may even increase. Therefore, we strongly advise against this drug.
One option that can be used for both cats and dogs is Alprazolam. Alprazolam is related to valium, but is mainly anxiety-reducing. This is also a very safe drug that can be used for severe anxiety on the day. To prescribe this drug to your pet, we are required by law to see him or her first at a consultation.
And finally: tips for the day itself
Keep your cat inside early, preferably as early as the day before New Year's Eve, to prevent him from panicking outside. Close any cat flaps so that he cannot accidentally escape outside.
Postpone your cat's dinner to a later time in the evening. When animals are hungry, they pay less attention to the fireworks; offering a new toy can also help keep their attention away from the sound;
Let your cat find its own spot in the house where it feels comfortable;
Close the curtains, leave the lights on and turn on the radio or TV. The stimuli from outside will then be a little less noticeable;
Make sure your cat is microchipped and registered and has its name tag on if necessary. In the unlikely event he runs away or escapes, he can be reunited with you more quickly.
If you have any questions on this topic, please feel free to contact us. We wish you happy holidays!