Traveling with your cat
Requirements before your cat can travel with you
Will your cat be traveling with you? If so, there are a few things you should keep in mind! The following rules apply to all countries:
Cats must be in possession of a European animal passport
Cats must be identified with a microchip (a tattoo is no longer valid)
Cats must be vaccinated against rabies; this must be done at least 21 days before departure and then within the vaccination schedule. The rabies vaccination may be given from the age of 3 months.
Some countries also have additional requirements such as a health certificate or treatment against certain worms. This includes travel to the United Kingdom, Ireland and Malta. There are a number of countries outside the EU that require a blood test for rabies antibodies prior to travel. Keep in mind that this procedure may take several weeks.
More information on pet import requirements by country can be found at www.licg.nl or ask our assistants.
Taking your cat in the car
Will your cat be traveling with you in the car? The items below will help you make the trip as safe and stress-free as possible.
Make sure the crate is secure and that it is fixed during the car ride and cannot move. The crate should not be built in too much so that ventilation is good.
Traveling in the car and in the crate stresses out many cats. Therefore, get your cat used to the crate in advance so that he or she is as comfortable as possible. Start this on time.
Put a blanket/towel in the crate with a scent from home. Also bring an extra towel if the crate gets dirty during the trip so your can change it.
If necessary, spray Feliway in the crate or on the blanket; these are calming pheromones that can help your cat relax. The drug Zylkene can also help against stress during the car ride.
Make sure the blowers of the air conditioner or heater are not pointed at the cat.
Don't turn the radio up too loud; cats are a lot more sensitive to sound than humans.
Never react angrily to the cat's meowing; this makes them even more restless. But don't ignore the cat either. Reassure him or her by talking in a neutral and calm manner.
Does your cat suffer from motion sickness? Then make sure you have something against this. For example, at our practices you can get the drug Cerenia, which helps against motion sickness in dogs and cats.
NOTE: Keep in mind the temperature inside the car! When the weather is warm, it can rise very quickly in a car. Also be aware of this when you stop for a coffee break, for example, and leave the cat in the car. A stroke due to overheating can be fatal.
Can you take your cat on the plane?
On most flights, you can bring your cat on the plane (either in the cabin or in the baggage compartment). There are some rules associated with this, of course. These rules vary from airline to airline. Therefore, always inquire in advance about the policy of the airline concerned regarding bringing your cat. The rules that apply everywhere are:
your cat must have a European passport
your cat must be microchipped and the microchip registered.
your cat must have a valid rabies vaccination which is listed in the passport
you must have an airline-approved travel bag or transport box for your cat. What these requirements are depends on the airline.
If your cat has health problems, check with your veterinarian whether it is advisable to take your cat on a plane. In fact, with some health problems, air travel can be risky. For cats with a flat snout (e.g. the Persian), most airlines have different health regulations.
To make your cat's trip as pleasant as possible, there are a few things you can do:
Before the trip, get the cat used to the travel bag or transport box in which you are going to take him or her on the plane ride. Start this on time.
Make sure there is a warm blanket in the crate/transportation bag, as it may cool down during the flight. It is best if this blanket has the scent of home.
Does your cat suffer from motion sickness? Then make sure you have something against this. For example, you can get the drug Cerenia at our practice, which helps with motion sickness in dogs and cats.
Give your cat a light meal and water no later than 2 hours before departure.
There are a number of sedatives that the veterinarian may prescribe for use during air travel. Not all drugs are suitable because some may cause the body temperature to drop during the flight. If you would like to use a sedative on your cat, we recommend going through your veterinarian and giving it to your cat at home first to see how it reacts.
A European passport for the cat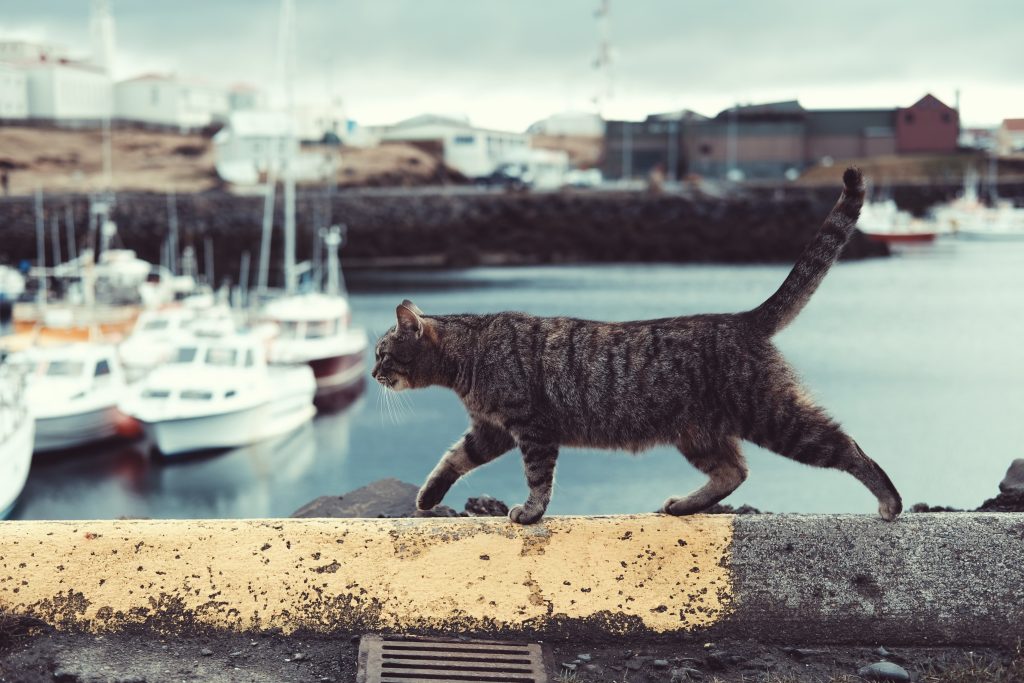 If you want to travel abroad with your cat, your cat needs a European passport. This passport must be issued by a veterinarian. The passport records the owner's information, cat characteristics, chip number and passport issue details. In addition, the rabies vaccination (if mandatory) is noted in the passport. Other annual vaccinations and health certificates can also be kept in the passport. The passport is laminated so that no fraud can occur with the information in the passport.
The rules regarding the pet passport changed in 2014. Do you still have a passport for your cat from before this time? Then you can ask us for a new passport that meets all the rules.
Stress from traveling
Traveling by car or plane can be stressful for your cat. To make the trip as pleasant as possible, there are several remedies, which you can use, such as Zylkéne or Feliway. These remedies make the trip less stressful and are safe to use. We do not recommend the use of sedatives because they also have a lot of effect on other body functions such as the heart, breathing and blood pressure. This can be dangerous if there is insufficient supervision of the animal.
Feel free to consult with one of the veterinarians or assistants about which remedy is most appropriate for your pet.
Do cats suffer from motion sickness?
Cats can also suffer from motion sickness. They get nauseous during the (car) trip, sometimes start drooling a lot and may vomit. If you know that your cat suffers from this, it is possible to preventively give a tablet of Cerenia. You can obtain this from us.
Traveling after the Brexit
If you want to travel to or from the United Kingdom, keep in mind that the rules have changed after the Brexit. Check here for the requirements:
Website NVWA: Reizen met uw kat na de Brexit
Website UK Government: Pet travel to Europe after Brexit
Protecting your cat from foreign diseases
Ticks
Ticks occur both in the Netherlands and abroad. Tick bites can cause abscesses or inflammation, but in addition, ticks can also transmit a number of dangerous diseases (including Ehrlichiosis, Babesiosis and Lyme) to your pet. Even in the Netherlands, ticks can transmit a number of diseases. So it is actually always important to properly protect your pet against ticks. This can be done through an appropriate 'spot-on' product such as Bravecto, tablets or a tick collar (Seresto®).
It is also important to check your pet for ticks after every walk. Once you have found a tick, you can remove it with special tick forceps. It can sometimes take several days for the pathogens from the tick to enter your dog's bloodstream, so the sooner you can remove the tick, the better.
Worms
Abroad, in addition to the roundworms and tapeworms common in the Netherlands, animals are at risk of infection with more harmful worms such as the heartworm and the lungworm.

Heartworm is transmitted through a particular mosquito. Currently, this mosquito is found only in southern and eastern Europe (starting from France). The larvae of the heartworm are transmitted to the cat by mosquitoes. The adult heartworms, which can grow up to 12-30cm, prefer to settle in the pulmonary arteries and heart and cause damage there. Complaints such as coughing, decreased stamina and weight loss can occur, as well as organ failure. Without treatment, infection with the heartworm is fatal.
Problems caused by heartworm can be minimized by treating when the larvae have not yet developed into adult worms. It is very important to treat against heartworm when you return home and one month later. If you stay abroad with your cat for more than a month, your pet should be treated every month. We recommend treating with Milbemax® deworming tablets. Another option is a "spot-on" product.
If you have any further questions or want to know which products are most suitable for your pet, you can always contact our assistants. If you would like to have this information to hand, we can send you a vacation letter by mail.
Enjoy your vacation!