Nutritional advice
Nutritional advice for your dog or cat
Nutrition plays an increasingly important role in the treatment of various conditions in pets. These include problems such as cystitis, osteoarthritis, obesity or skin problems. There are various medicated feeds that are formulated to, for example, dissolve stones in the bladder, keep cartilage in better condition so that your dog or cat is less painful when walking, contain fewer calories or keep skin in better condition with the addition of omega-3 fatty acids. Sometimes just a change of food is enough to keep issues under control.
But which diet is best for your pet? The choice is vast and as an owner it is often very difficult to make a responsible choice. What should you pay attention to? Can it (not) hurt that your pet eats the same food every day? Is that nice-looking bag in the supermarket any good or is it better to follow the advice of your vet or the pet shop? Do you want start feeding raw meat, because it is the most natural without all kinds of (perhaps harmful) additives? The amount of food and the optimal composition of the diet changes throughout your pet's life. And then, of course, there are personal preferences… What a challenge!
We get a lot of questions about nutrition. Whether it is to lose weight, to guide the growth of a new puppy or to put together the optimal diet for that old cat that has kidney problems or osteoarthritis. Or for that picky Labradoodle who is also allergic. It takes quite some time to calculate all that manually and it is certainly not always easy. We therefore work with Feedwise.
Feedwise: customized personal nutrition advice
"Does the food I am currently feeding meets my dog's specific nutritional needs?"
"Is the amount of nutrition appropriate for my cat's current weight and age?"
"How can I grow my puppy or kitten responsibly?"
"How can I make my pet lose weight responsibly?"
Do the above questions sound familiar to you? With FeedWise, we have a suitable answer for you in no time, both for healthy animals and those with special nutritional needs.
Feedwise is a unique and independent online calculation programme developed by one of the two Dutch veterinary nutrition specialists. Using Feedwise, we can recommend an appropriate diet and amount of nutrition for any animal at any stage of life and with any condition (or combined conditions). This enables us to provide you with tailor-made nutritional advice for your puppy, kitten, adult or senior dog or cat at all our clinics. We closely monitor what is happening and make adjustments when necessary.

FeedWise also contains specific modules to help your pet lose weight responsibly, as well as to help your puppy or kitten grow up responsibly. Together we will find the diet that suits you best and that you feel comfortable with. We look forward to supporting you and your pet in the sometimes frustrating search for the right diet.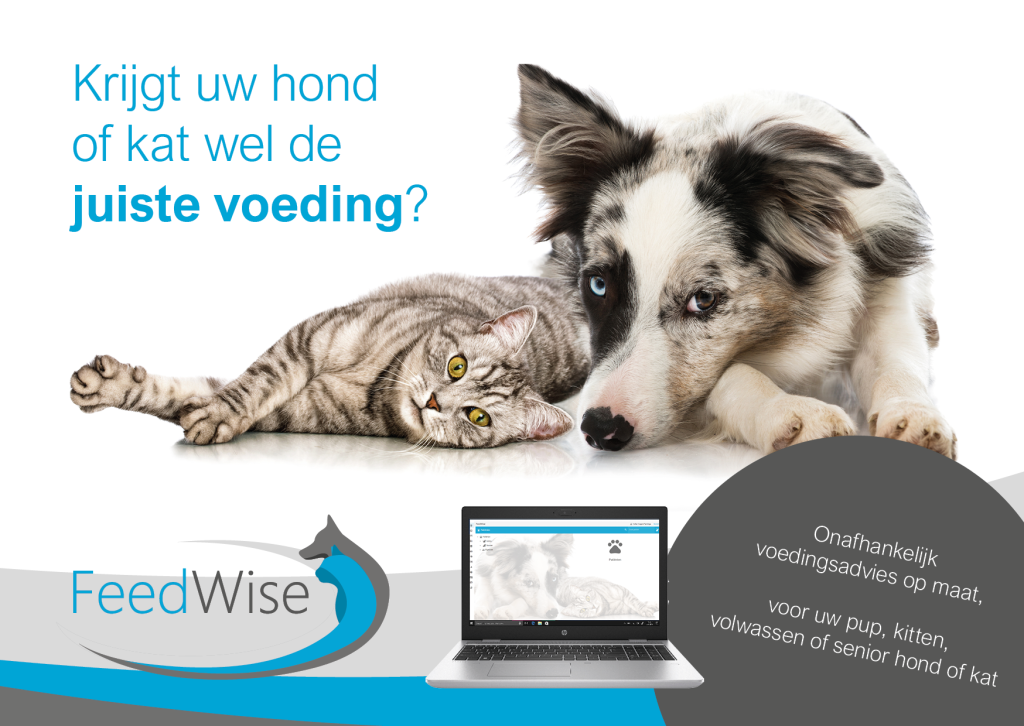 Feedwise can help you with
Raising puppies and kittens responsibly
Making dogs and cats lose weight responsibly
Calculating the daily amount of nutrition and whether it is (still) appropriate for the animal's current weight and age
Supporting the conditions of our pets with proper nutrition and possibly supplements reducing the need for medication
Preparing diets yourself but still making sure there are no deficiencies in the diet
Tailor-made nutritional programmes
We offer advice and support in three different programmes:
Nutritional consult
Our nutritional consult answers all your one-off questions. For example, questions about the composition, quantity, or suitability of a particular diet. This could be about your pet's current diet, if you would like to switch diets or if you plan to put together your pet's diet yourself.
€ 24,95 per consult
Growing responsibly
Did you know that growing slowly is often better for your puppy or kitten than growing fast? The effects of this can be seen in the skeleton later in life. But what is slow growth, and how do you keep it under control? Our "growing responsibly" programme enables you to do just that. This programme entitles you to 10 nutritional consults in your pet's first year of life, during which you discuss progress with our nutritionist. You also get a 10% discount on the food we sell.
€ 95,- for 10 consults
Losing weight responsibly
Getting your pet to lose weight can be very difficult. And yet this is so incredibly important, as it can cause many diseases. It helps enormously when someone thinks with you. Using the BCS (Body Condition Score), we determine together how much weight your pet needs to lose and how long it will take to do so responsibly. We then help you with the amount and type of food and give you smart tips to make it easier both for the animal and for you as owner to succeed.
€ 95,- for 10 consults
Our nutritionists
Our nurses Nicolle van den Dolder, Kelly de Klerk and Michelle de Nieuwe are qualified nutritionists. You can contact them with all your questions about different diets snacks and preventive nutrition. They can also give personal advice on how much food to give your pet. Would you like more information regarding nutrition? Then please contact us!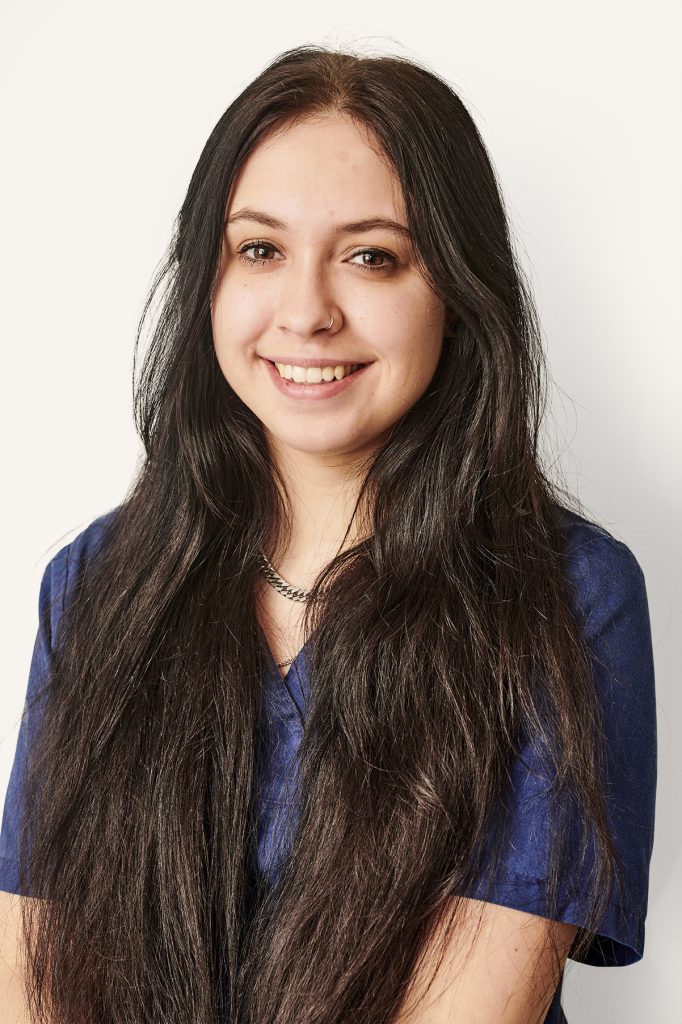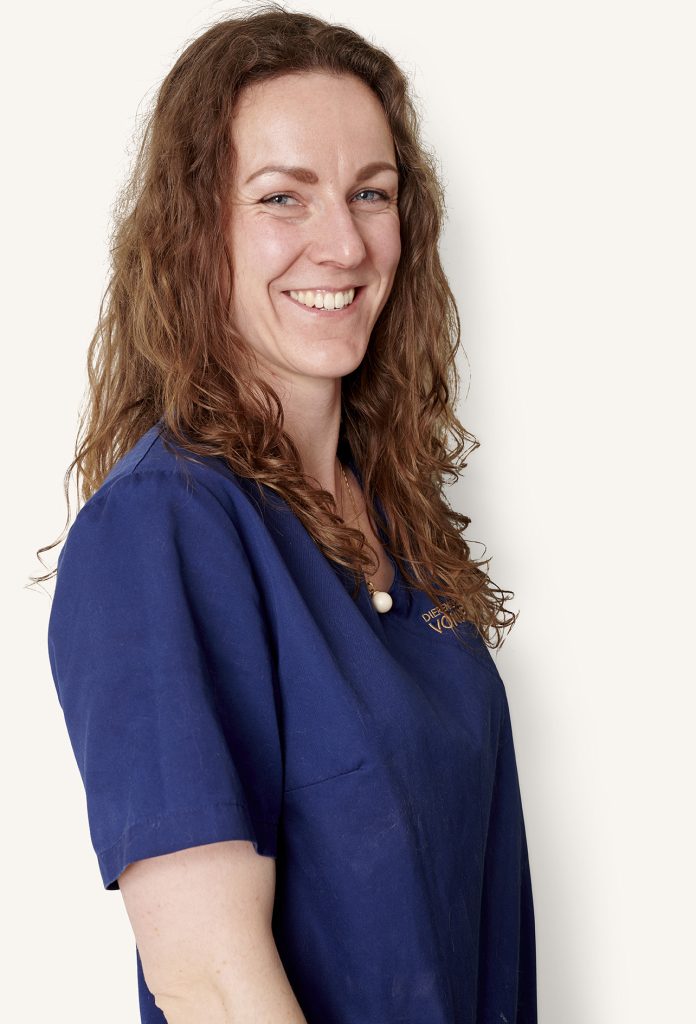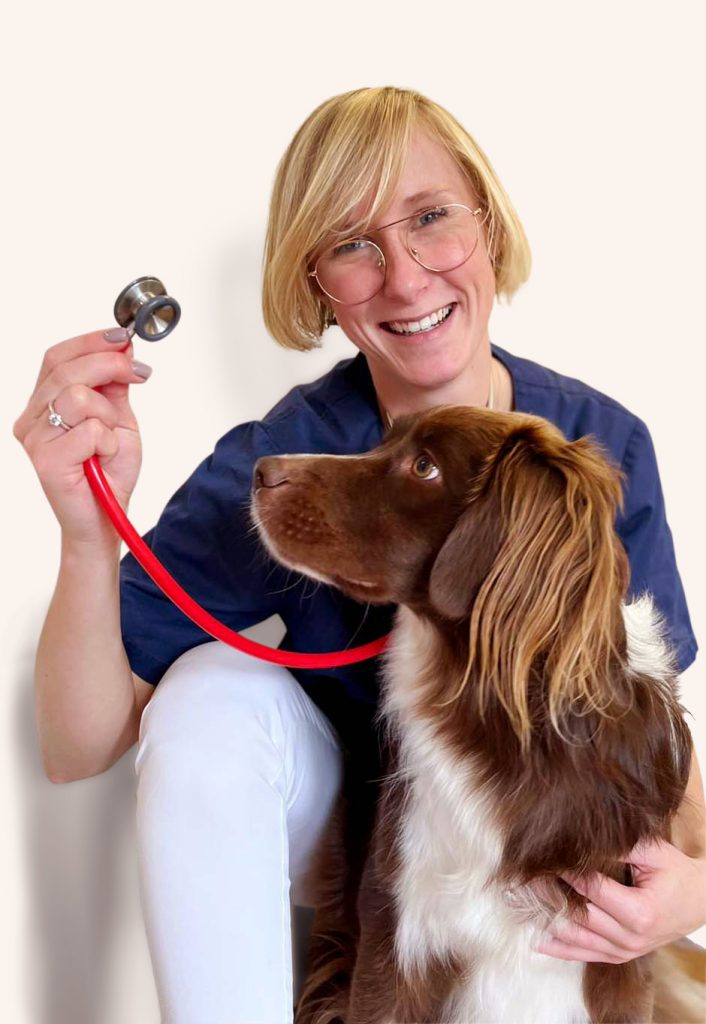 Did you know that the "growing responsibly" programme for your puppy or kitten is included in our preventive care plan?
No time to call?
You can also ask all your questions very easily via Whatsapp. That's easy and fast!