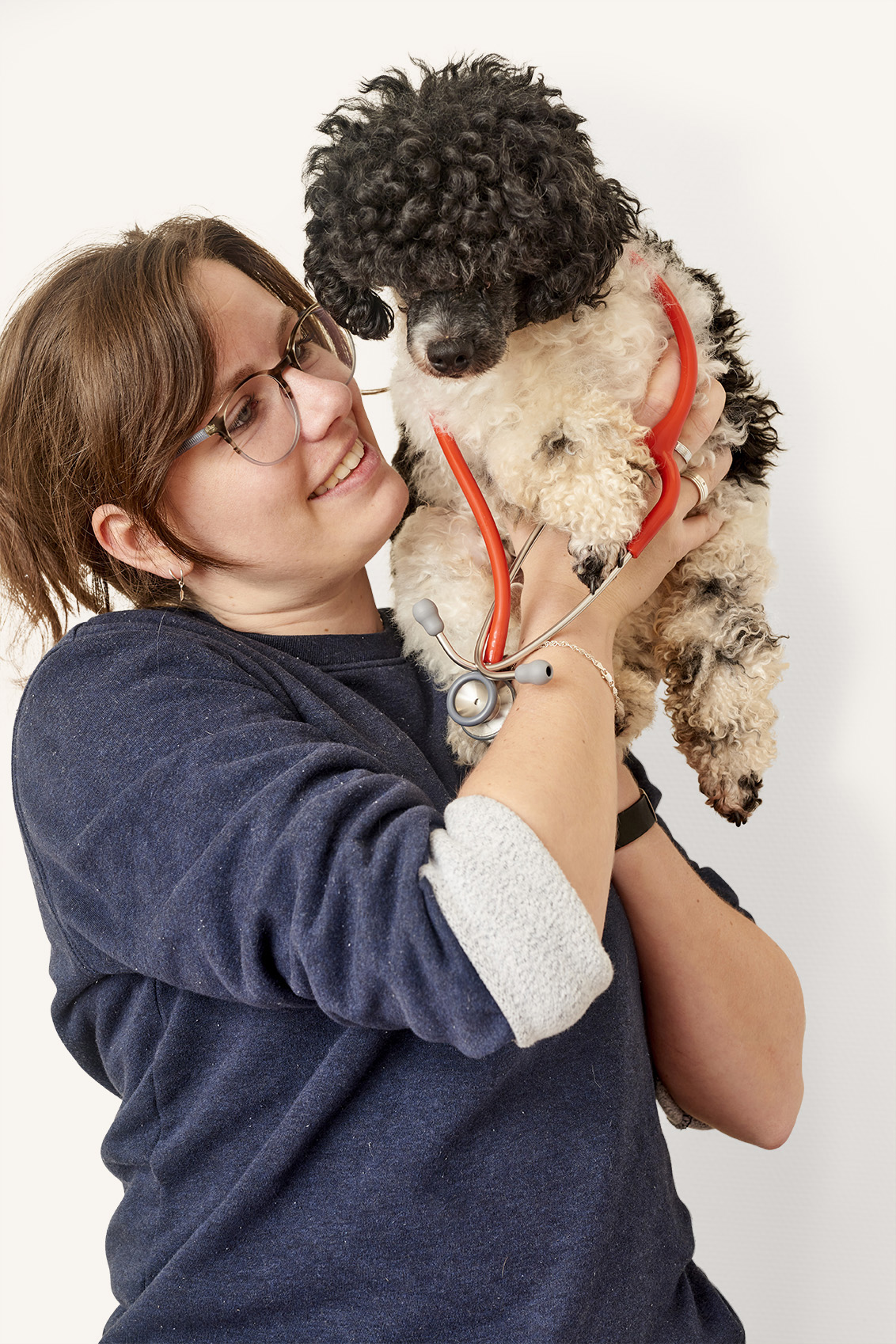 Caitlyn Immerzeel
My name is Caitlyn, born and raised in the beautiful Wormer. I currently live with my partner and dog Cas in Wormerveer. In my spare time I like to walk my dog Cas, drink coffee with friends, knit cuddly toys and play harp and violin. I also love movies, there are only little movies I haven't seen….

I joined De Dierenkliniek right out of college, in July 2013. At that time I was working alongside school at a clinic for both pets and livestock; I strongly felt that this was not my duty. I preferred to go to the city, without cows ;). I saw the job posting at De Dierenkliniek, and the atmosphere really splashed off. I did my best to write a nice letter and immediately got a call from Elsje. I had an interview with her within a week, and only a day later I got an offer I couldn't refuse! I started working here already before I received my diploma. The dream of every graduate of course.

I always knew that this is what I wanted to do. That's why I went straight from elementary school to a green school, where you start directly with internships on farms, pet stores, and so on. From there the transfer to the Clusius College MBO was easily made, where I did 2 years of General Animal Care, before I could take the specialised turn to Veterinary Technician. This study took another 2 years, so I graduated at the age of 18, with lots of time in front of me to practice this fantastic profession.

I love and enjoy all animals, of course, but I am an absolute dog person. I find their behaviour and communication between them very interesting. In 2019, I trained as a behaviourist, which now allows me to help many dogs in the clinic who have behavioural problems or a trauma. In the future, I hope to expand this knowledge further. I also find dentistry and anesthaesia very interesting, for which I have also taken several courses. In 2022 I have completed training, allowing me to be called Senior Anesthaesia Assistant!

As a Veterinarian Technician, you experience special, fun and emotional things every day. But what I will always remember is that one owner specifically asked me to be there when her dog was put to sleep. I had known him for a long time, and together we said goodbye to him. An emotional moment, and how special that she asked me to be there too!

What no one knows about me is that I am terrified of birds… This sometimes gives hilarious moments in the waiting room when people come to bring a wounded pigeon and I can't find anyone else to take it. I pretend nothing is wrong, but my blood pressure goes through the roof! I play a lot of classical music on harp and violin, but I prefer listening to hardrock music!