What could be nicer than seeing your cat happy and content? A very important part of this is allowing them to express their natural behaviour. This can include playing, scratching and chasing. Here you will find some fun cat toys to make yourself back that can help your cat with this!
The scratching board
Cats love to have a nice scratch now and then. Why they do this has several reasons, namely:
it provides nail maintenance
scratching is a way of stretching their muscles
scratching is used to mark territory
scratching is a way to reduce stress
So plenty of reasons to make sure your cat can enjoy doing this in the house too.
What do you need?
wooden board (cut in 2)
wood glue
sisal rope
glue gun
staple gun (optional)
glue clamp
Tip: you can also make this scratching board so that you can hang it around the banister of the sofa. Good luck!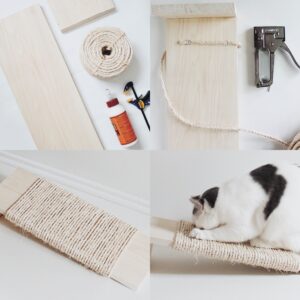 Puzzle box
Letting cats search for their food stimulates their natural hunting ability. Besides, it is also a fun activity for them. This DIY puzzle box is ideal for this!
What materials do you need?
a box
empty toilet rolls
scissors
tape or glue gun
Make sure the toilet rolls are well secured in the box and make sure the edge of the box is not higher than the toilet rolls. When the box is ready, hide your cat's kibble or treats in the different rolls, and play!
Catnip cushion
Does your cat sometimes do that too? Kick its "prey" with its hind legs while playing? This toy is extra long so your cat can enjoy kicking. The catnip filling makes the toy even more attractive, so it is often a great success.
What materials do you need?
knee-length socks
catnip/catnip
fibre filling
scissors
leather lace (or another, safe, cord)
clear, strong glue
Make sure the toy will be just a little smaller than your cat's body. In addition, use plenty of catnip, as the cat should smell it well through the material. Cuddly!