Ticks in dogs
Ticks in dogs and puppies
Dogs are jumped by ticks, which cling to the skin and feed themselves with your dog's blood. This is annoying, but with a bit of bad luck the tick also carries and transmits bacteria and viruses. This can make your dog, as well as yourself, quite ill. These illments include Lyme disease, Ehrlichiosis and Babesiosis. This is why it is so important to prevent and control ticks in your dog.
What are dog ticks?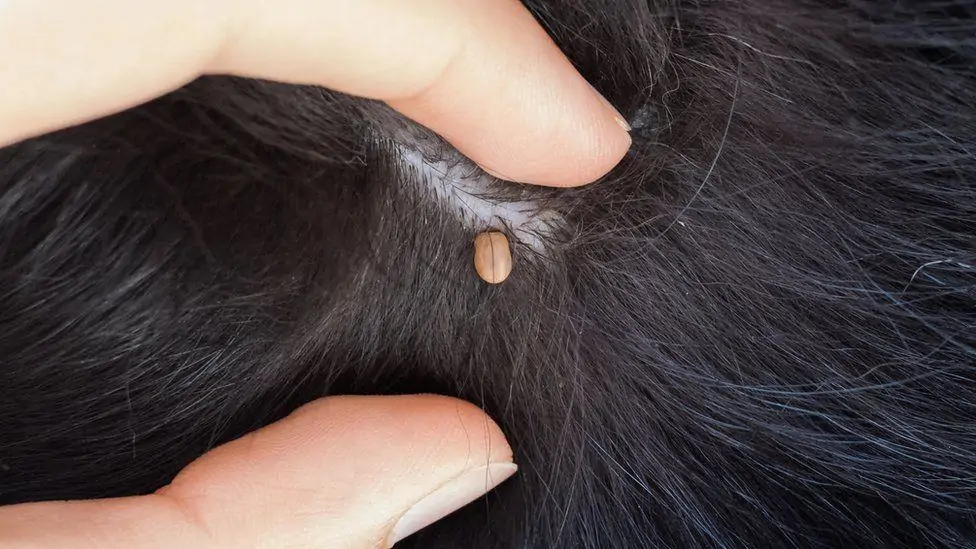 A tick is a small, blood-sucking parasite that burrows into a dog's skin. They particularly live in bushes and tall grass, then jump onto the victim when passing by. Because dogs are outside a lot, they are at relatively high risk of tick bites. Therefore, you should properly protect your dog from ticks.
What can you do to prevent or treat tick bites?
To prevent tick bites, you can purchase several products, such as a tick collar, tick drops and tick tablets. You can use most of these preventively.
Tick collar dog
Many dog owners give their dogs a tick collar, which repels and kills nasty bugs such as ticks. A tick collar is a dog collar that contains active substances. Your dog doesn't notice anything from these substances, but insects absolutely cannot stand them. Thanks to this collar, ticks stay away.
Tick drops dog (pipette)
Most products against fleas also work against ticks. That is why this remedy is the most commonly used. These products come in pipette form, or drops, which you apply to your dog's skin. In most cases, these products work for 1 month and should be repeated thereafter.
Tick tablet dog
An anti-tick remedy also comes in pill form (e.g. Nexgard). You can give this to your dog as a snack, it also works for a month.
Tips to fight dog ticks
In addition to the above, we recommend checking your dog daily for ticks in order to take action in time. A "fresh" tick bite is often nothing more than a black dot on the skin. Only after the tick has sucked up the blood does its body swell. Often, the tick is only noticed when swollen.
In addition, don't forget to de-flea and de-worm your dog regularly. This, like tick control, is an important part of preventive care.
Treating tick bite in dogs
Is your dog bitten by a tick? Make sure you remove the tick as quickly as possible, since your dog may get sick from the tick bite. This occurs after only 16 to 24 hours, so there is urgency.
How to handle a tock bite?
Locate the tick bite by pushing the dog hairs well to the side
Do not use disinfectant on the tick because as a reaction, the tick may empty its stomach contents increasing the chances of transmitting a pathogen
Place a tick remover around the tick, as close to the dog's skin as possible. Want to remove the tick without tick remover? You can also use tweezers
Try using a twisting motion to loosen the tick and pull it off the dog's skin. as tempting it may seem to crush the tick, don't do this! This could release the pathogens. Pull the tick out of the skin very gently so that you remove it entirely
Always check whether you have removed the tick's head and legs. If not, try it again. Otherwise, your dog may still develop symptoms.
A tick remover is available at our clinics.
Help, my dog has a tick!
Do you see your dog's tick bite too late or have you failed to remove the tick? Keep an extra close eye on your dog's health. If your dog starts to show the underneath symptoms, always make sure you contact us:
Fatigue
Low appetite
Fever
Pains
Stiff joints
We will check your dog for tick-borne diseases. Then we will prescribe the appropriate treatment so that your four-legged friend will soon be back to normal.
If you do not like to remove the tick yourself, we are of course happy to help you with this!